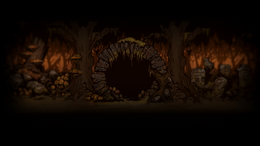 The Weald is a location on the Estate map and is the second location to be unlocked. Completed quest rewards include Deeds and Crests.
Description
Edit
The area is considered a dark maze of twisted woodland filled with corrupted earth and plant life. Its easy to tell considering the fungal creatures and decayed wild life the heroes will encounter. In this region a mix of Cultists, Brigands and Eldritch monsters show how desolate the Weald has become. Expect the dangerous mix of foes to keep your heroes on guard, although a good dose of antivenom can help overcome the toxic threats about.
Note: The fungal enemies are considered part human but fall under Eldritch considering being hybrid type.
Ad blocker interference detected!
Wikia is a free-to-use site that makes money from advertising. We have a modified experience for viewers using ad blockers

Wikia is not accessible if you've made further modifications. Remove the custom ad blocker rule(s) and the page will load as expected.