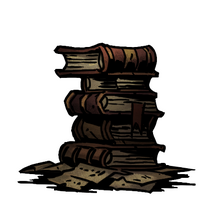 Description
Edit
A stack of literary treasures in an unlikely location.
Occurrence
Edit
All Region
(40% odds) Reading a few pages has a lasting effect on the hero... (Gain quirk, 66.7% positive, 33.3% negative)
(40% odds) The hero reads a most unsettling passage. (Gain effect, 66.7% Stress damage level 3, 33.3% Torch damage level 3)
(20% odds) The volumes are dessicated and unremarkable. (nothing)
(Use Torch) The hero destroyed knowledge, and now must bear the guilt of it! (Gain effect, Stress damage level 5)
Ad blocker interference detected!
Wikia is a free-to-use site that makes money from advertising. We have a modified experience for viewers using ad blockers

Wikia is not accessible if you've made further modifications. Remove the custom ad blocker rule(s) and the page will load as expected.